Mesh Networking creates near-limitless connections
Mesh is a self-optimizing and self-healing network, always looking for the best connection and seeking a new one when a device disconnects. Cast features two different Mesh modes: Open Mesh and Group Mesh. With Open Mesh, a near-unlimited number of users can connect to each other within an effective range of 1.1 km (0.7mi). For private sessions, Group Mesh supports up to 24 participants. 
Hands-free communication thanks to full-duplex technology
Worksites need communication lines open for safety reasons. Being able to respond without needing to press a button is essential, especially for people working with heavy equipment. Cast helps with these issues by utilizing full-duplex technology, a system that allows people to talk hands-free. Crews can easily communicate and keep their hands free of any distractions while working.
Hearing protection and communications solutions for high noise environments
The Cast headset provides hearing protection while letting you communicate in loud, busy worksites. The headset comes in two styles, each with their respective noise reduction ratings: over-the-head earmuffs (28dB) and hardhat integrated (23dB). It's designed with safety and comfort in mind with a hands-free intercom system and a three-button layout making it easy to control.
Stay in control with the Sena Smartphone App
Connect the Cast to the Sena Smartphone App and instantly be able to customize the headset. Change settings like turning on Mesh Intercom, adjust channel frequency, set up speed dial options, program FM station preferences, and more.
Product Focus
Full-Duplex

Allows simultaneous communications without interruptions.

Mesh Networking

Robust and reliable communications network.

Multi-Team Communication

Communication with different teams across 9 channels.

Advanced Noise Control

Reduces the effects of ambient noise during intercom conversations
Rugged, proven performance
Learn how Sena can meet your communication needs.
Download the Application Data Sheet.
Download PDF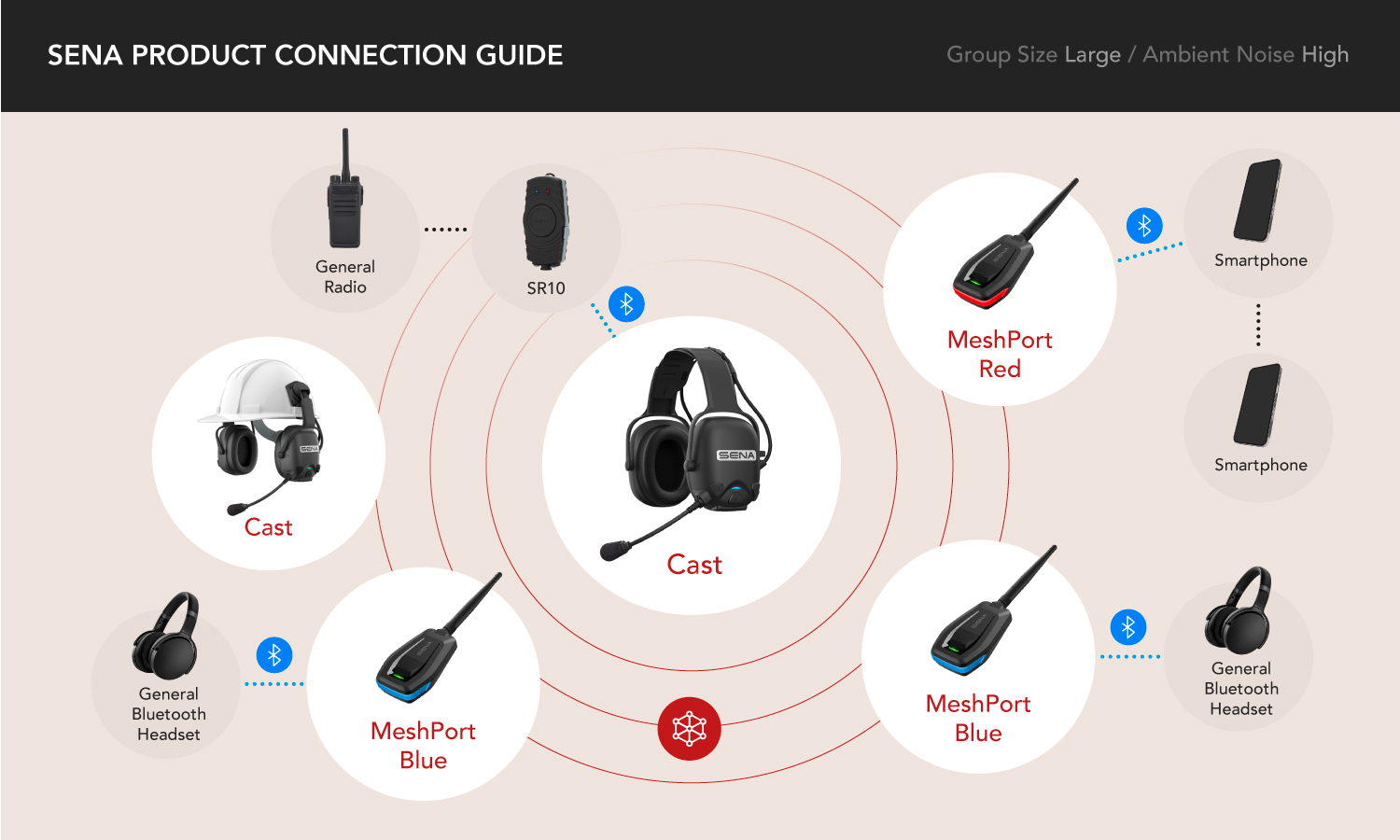 Technical Specifications
GENERAL
Dimensions:
Headset: 150 mm x 192 mm x 97 mm (5.9 in x 7.6 in x 3.8 in)
Speaker Driver Unit: 32 mm (1.3 in) - thickness 7.1mm (0.3 in)
Boom Microphone: length - 100 mm (3.9 in)
Weight:
Over-the-Head: 474 g (16.7 oz)
Hard Hat Mount: 492 g (17.3 oz)
Temperature:
Operating Temperature: -10°C ~ +55°C
Storage Temperature: 15°C ~ +30°C
Charging Temperature: 0˚C – 45˚C
NOISE REDUCTION RATING
Over-the-Head Earmuff Type:
NRR (ANSI S3.19-1974, US) - 28 dB
Hard Hat Mount Earmuff Type:
NRR (ANSI S3.19-1974, US) - 23 dB
AUDIO
Noise Cancellation:
Advanced Noise Control™
Codec:
Built-in SBC Codec
FM Radio:
Radio frequency specifications: 76 ~ 108MHz
10 preset station memory
MESH NETWORK
Mesh 2.0 Intercom™ Technology
BLUETOOTH
Bluetooth 4.2
Headset Profile (HSP)
Hands-Free Profile (HFP)
Advanced Audio Distribution Profile (A2DP)
Audio Video Remote Control Profile (AVRCP)
INTERCOM
Working Distance:
Mesh Intercom™: up to 1.1 km (0.7 miles) in open space*
*can extend up to 4.4 km (2.8 miles) between a minimum of 6 users (in open space).
Supports up to:
Mesh Intercom™ (Open Mesh): virtually limitless users
Mesh Intercom™ (Group Mesh): 24 users
BATTERY
Talk Time:
Mesh intercom: up to 9 hours
Charging Time:
2.5 hours
Quick Charge:
20 minutes of charging equals 3 hours
Intercom
Type:
Lithium Polymer Battery
Capacity:
1,100 mAh
Support
Sena Device Manager
Instructions for Firmware Update
Firmware Histories
v1.1.3 October 14, 2022
Reduced the maximum volume to meet certification requirements
v1.1.2 June 24, 2022
Improved iOS connectivity
Improved compatibility with RC3 and RC4
v1.1.1 September 22, 2020
Improved audio quality and battery performance during Mesh Intercom
Support for iOS 14
v1.0.2 June 5, 2020
Minor bug fix with returning to Mesh Intercom conversation after SR10 is disconnected