description
What is included
EASY TO USE WITH SUPERIOR AUDIO QUALITY
Extremely versatile with a long range, the SPH10 Bluetooth 3.0 stereo headset brings your favorite tunes, GPS navigation, four-way intercom conversations featuring a 900-meter (980 yards) range, and hands-free calling to a wide range of industrial worksite settings. This wireless outdoor intercom, for both incoming and outgoing audio, will support efforts to better communicate with other workers.
CROSS-BRAND INTERCOM COMPATIBILITY
Sena's headset gear works with everyone else's —guaranteed! The SPH10 uses the Universal Intercom™ protocol, which allows Sena's headsets to work with others, regardless of brand.
ERGONOMICALLY FRIENDLY CONTROL
The versatile Jog Dial and large buttons on the boom mic make it easy to control all the functions and settings of the SPH10—even while workers are focusing on the job at hand. And the design of the SPH10 allows for a stable and secure fit for almost any work condition.
DO IT ALL WHILE DOING JUST ABOUT ANYTHING
Bluetooth 3.0 technology provides the capability to listen to and share communication with the use of Bluetooth playback controls and offers Multipoint Bluetooth technology for dual mobile phone usage.
HQ AUDIO PERFORMANCE IN ANY ENVIRONMENT
The SPH10 produces crystal-clear audio with an automatic boost of volume in noisy environments, while Advanced Noise Control™ technology detects and cuts out background noise. Also, each audio source has its own independent volume level to adjust for an improved listening experience while on the job.
OPTIMIZED FOR LIFE, SIMPLE TO LEARN
The SPH10 is fully water resistant for use in any condition, the outdoor intercom system offers up to 10 hours of talk time and seven days of stand-by on a single charge. All Sena owners get access to free firmware upgrades, which ensure units are always operating with the latest software updates. Meanwhile, integrated voice prompts available in English, French, German, and more, helps learning how to use the device easily.
SPH10 Headset
Mini Microphone
USB Power & Data Cable
Stereo Audio Cable
Boom Microphone Sponges
Mini Microphone Sponges
Rubber Earpads
Product Focus
Advanced Noise Control

Reduces the effects of ambient noise during intercom conversations.

Intercom 900 M / 0.6 MI

Maximum distance operating within optimal conditions.

Voice Prompts

Spoken audio cues from the headset.

Bluetooth Stereo Music

Use bluetooth to stream stereo music to your headset.
Rugged, proven performance
Learn how Sena can meet your communication needs.
Download the Application Data Sheet.
Download PDF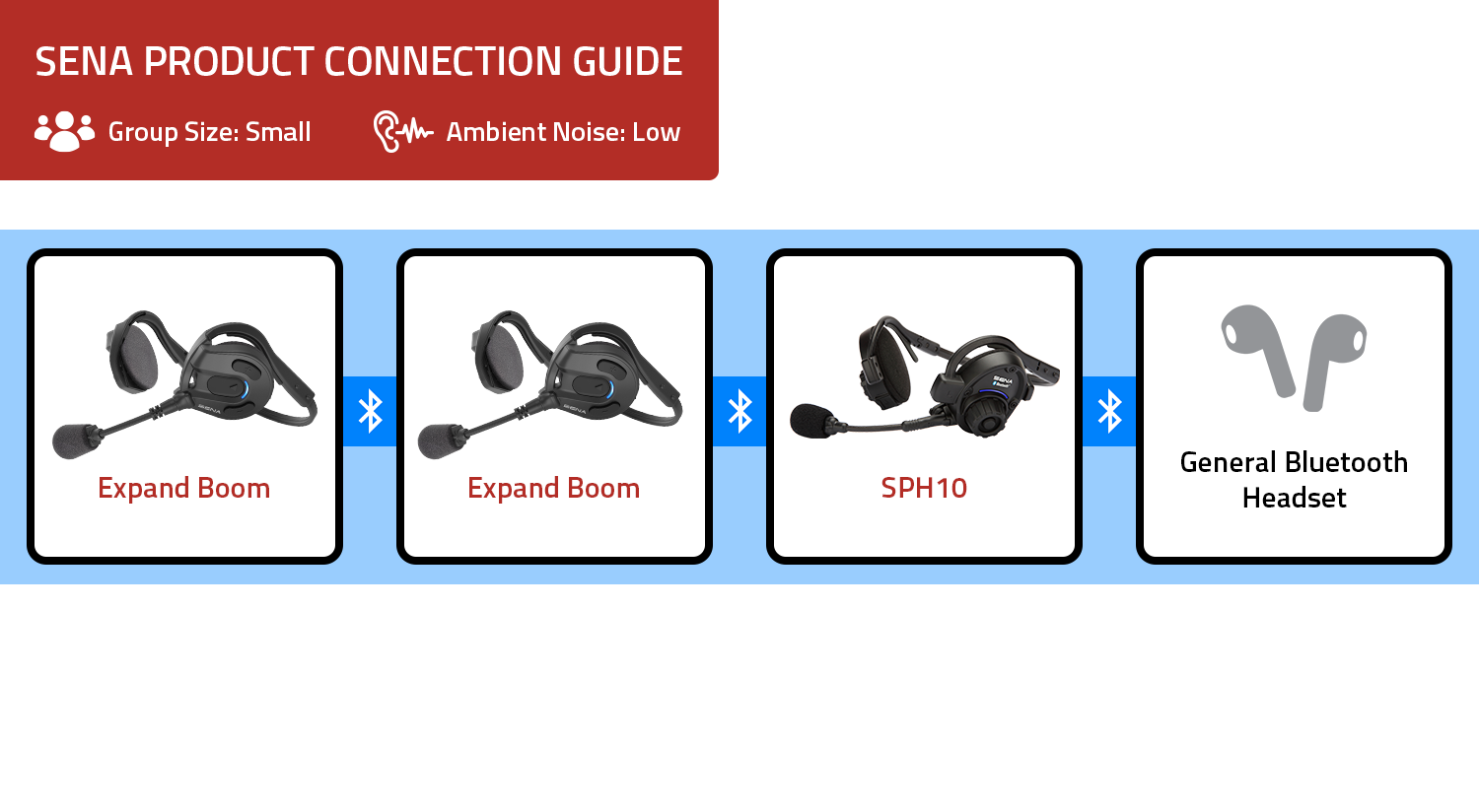 Technical Specfications
GENERAL
Dimensions:
145 mm x 115 mm x 73 mm (5.71 in x 4.53 in x 2.87 in)
Weight:
110 g (3.88 oz)
Operating temperature:
-10˚C – 55˚C (14°F – 131°F)
BLUETOOTH
Bluetooth 3.0
Headset Profile (HSP)
Hands-Free Profile (HFP)
Advanced Audio Distribution Profile (A2DP)
Audio Video Remote Control Profile (AVRCP)
INTERCOM
Working distance:
up to 900 meters (0.6 mi) in open terrain
AUDIO
Noise Cancellation:
Advanced Noise Control™
Codec:
Built-in SBC Codec
Sample rate:
48 kHz (DAC)
Auxiliary audio-in connection via 2.5 mm jack
BATTERY
Talk time:
up to 10 hours
Charging time:
2.5 hours
Type:
Lithium polymer
Support
Sena Device Manager
Instructions for Firmware Update
Firmware Histories
v5.2.1 January 20, 2017
Minor bug fixes in noise during use
v5.2 June 27, 2016
Intercom lock function
Improved compatibility with BMW Bluetooth onboard audio systems
Minor bug fixes in Siri control
v5.1 February 11, 2015
Advanced Noise Control™ On / Off capability
Improved the intercom connection compatibility with the 20S
Improved Ultra HD Voice Recording™ with the Prism and Bluetooth Audio Pack for GoPro
Improved compatibility with Prism, Bluetooth Audio Pack for GoPro and Bluetooth GPS devices
Minor bug fixes in VOX phone, Universal Intercom™, voice prompts, SR10 and smartphones
v5.0 April 11, 2014
Universal Intercom™
Advanced Noise Control™
Music Sharing
Speed Dial
Sidetone
Ultra HD Voice Recording™ for Prism and Bluetooth Audio Pack
Improved compatibility with Bluetooth GPS devices
Minor bug fixes and performance improvements in SM10 connection, intercom function, and GPS device