description
What is included
COMMUNICATION FOR ANY ENVIRONMENT
This water resistant Bluetooth® headset was designed to provide a stable, secure fit in any situation. Use Sena's Expand Boom to communicate from headset-to-headset, take hands-free phone calls, or listen to music from a smartphone. No matter the work environment, workers will always enjoy crystal-clear sound quality with Expand.
READY TO GO, RAIN OR SHINE
Built to be water and sweat resistant, no need to think twice about keeping the Expand Boom headset on as the weather rolls in. Expand Boom is the only Bluetooth headset of its kind that is water resistant, ideal for outdoor settings such as arborists, construction or landscaping worksites.
CHAT HEADSET-TO-HEADSET 900M AWAY
Bluetooth 3.0 technology allows for four-way intercom over a 900-meter (half mile) range. Advanced Noise Control™ ensures noisy outside environments won't interfere, and each audio source has its own volume level which can be set to preference. Meanwhile, integrated voice prompts help with set-up and operation.
THE COMPATIBILITY YOU NEED
Even if your companions don't use Sena gear, Expand Boom uses the Universal Intercom™ protocol, which makes Sena Industrial headsets compatible with other brands.
Expand Boom Headset
USB Power & Data Cable
Speaker Pads
Microphone Sponge
Product Focus
Advanced Noise Control

Reduces the effects of ambient noise during intercom conversations.

Intercom 900 M / 0.6 MI

Maximum distance operating within optimal conditions.

Four Way Intercom

Connect up to four headsets together for a group conversation.

Universal Intercom

Talk over the intercom with headsets not powered by Sena.
Rugged, proven performance
Learn how Sena can meet your communication needs.
Download the Application Data Sheet.
Download PDF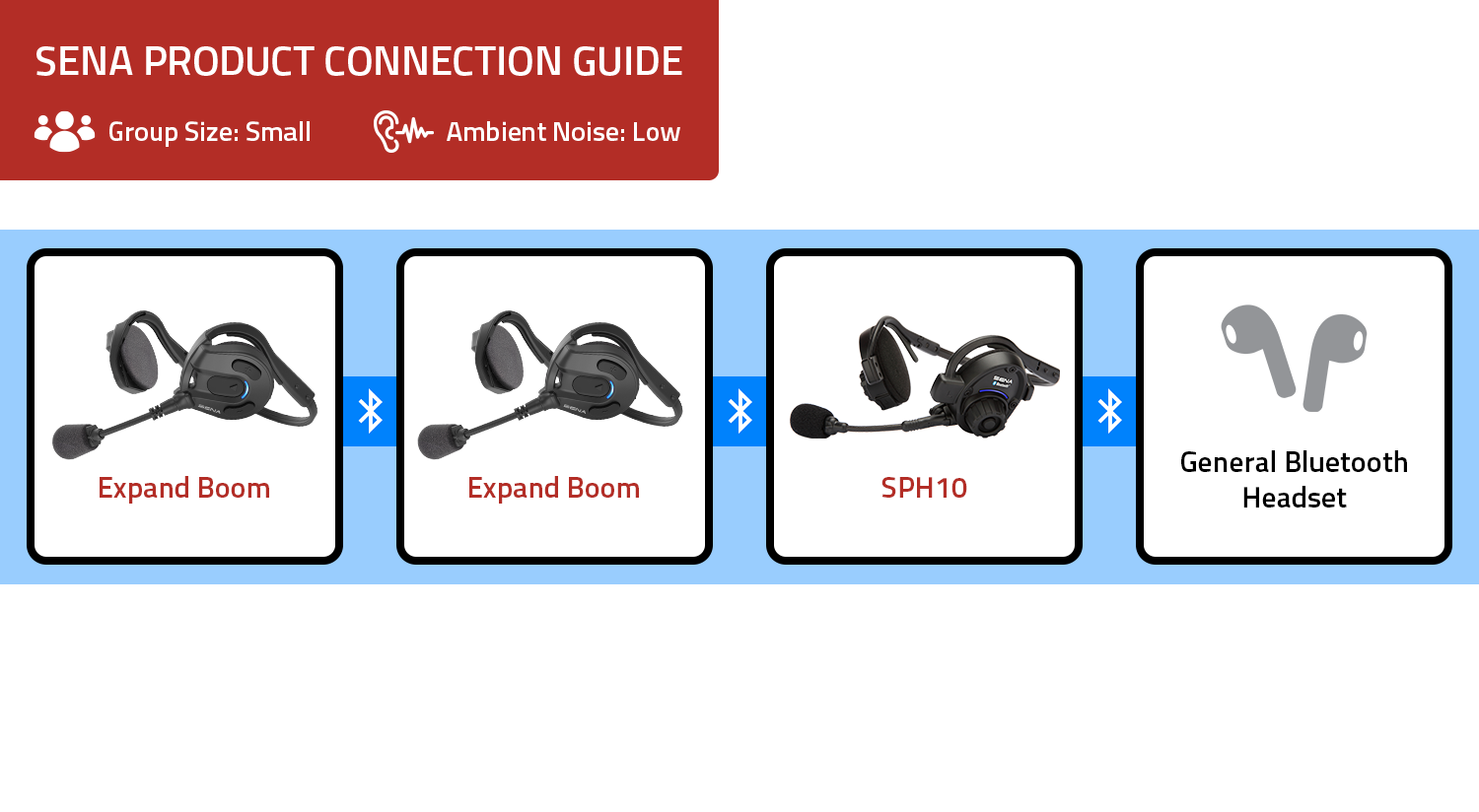 Technical Specifications
GENERAL
Dimensions:
164 mm x 120 mm x 142 mm (6.5 in x 4.7 in x 5.6 in)
Weight:
100 g (3.53 oz)
Operating temperature:
-10˚C – 55˚C (14°F – 131°F)
BLUETOOTH
Bluetooth 3.0
Headset Profile (HSP)
Hands-Free Profile (HFP)
Advanced Audio Distribution Profile (A2DP)
Audio Video Remote Control Profile (AVRCP)
INTERCOM
Working distance:
up to 900 meters (0.6 mi) in open terrain
Supports up to 4 riders
AUDIO
Advanced Noise Control™
Codec:
Built-in SBC Codec
Sample rate:
48 kHz (DAC)
BATTERY
Talk time:
up to 10 hours
Charging time:
2.5 hours
Type:
Lithium Polymer Battery
Support
Sena Device Manager
Instructions for Firmware Update
Firmware Histories
v1.0.2 June 30, 2022
Improved intercom performance
v1.0 June 26, 2020